Updates & Events
2021 Hooper Studios Gallery invites you to visit and shop for Art & Craft! Support your local artists!
Join us this Saturday, October 16th,  at Hooper Studios Gallery in Hampton
from 10 to 4.  Thanks for supporting your local artists!
There is a parking lot behind the studio or you can park on the road.  Covid guidelines will be followed. Limited numbers in the Gallery. The Gardens are still lovely so you can take time to explore!
The Gallery features works by;  Cathy Love will show a selection of her beautiful photography. Deborah Payne shows her lovely fibre art, scarves, pins and more! Sue and Kathy with prints, cards and sculptures…. There is one John Hooper sculpture left available for sale. "Cronos". We have paintings by Fred Harrison, Larry Stewart,  collage/paintings by Toby Graser and fibre art by Sophia Bella. Judy Brittain has a variety of lovely mosaics. Phil Savage has amazing stone sculptures and wood carvings of his " herd", bears, hippos, horses and more. Enjoy wood, epoxy art pieces by Andy Merrithew and beautiful photography flower art with Liane Thibodeau and Wendy Langille. Wendy will also have some flower bouquets and cards.
Past Events:
Join us Saturday, September 18,  at Hooper Studios Gallery and Kathy's house in Hampton from 10 to 4. In Hooper Studios Gallery,  Liane Thibodeau will be host artist in the morning and and Judy Brittain, will be demoing her mosaics in the afternoon. Kathy & Sue will be showing paintings in Kathy's home. 
Otherwise we are open by chance or appointment    Sue 650-3333 or Kathy
832-5255 177 Kennebecasis River Road.  Hampton. www.artathooperstudios.com 
Hooper Studios Instagram:  #artathooperstudios
We are open by chance or appointment. Sue 506 650-3333 or Kathy 506 832-5255
Last years happenings:
2020 Hooper Studios Gallery invites you to join us for Fall Open House Days with Art & Craft! Support your local artists!
 Saturday, October 24th and November 14th from 10-4
---
---
The Gallery will feature works by;  Sue and Kathy with paintings, prints, and drawings….Fred Harrison, Toby Graser & Larry Stewart with paintings, and Judy Brittain with her mosaics. Phil Savage will have a limited number of carvings of his " herd" and Savage Gardens will have dried flower bouquets. Enjoy fiber art with Deborah Payne, wood carvings by David Meade,  photography & pottery by Martha Millard & Helen Stanley.   There will be artists demos. 
Depending on the weather, families are welcome to draw in the garden with their children. Bring a folding chair if it is easy. Clipboards, paper and pencils supplied.  We look forward to seeing you.
 Numbers will be limited to respect guidelines.
Call for further info. Kathy 832-5255 or Sue 650-3333.  177 Kennebecasis River Road. Hooper Studios Gallery is open otherwise by appointment. Visit www.artathooperstudios.com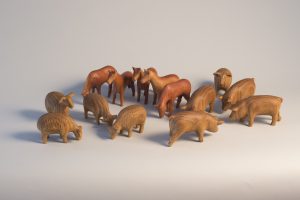 2020  We are excited that Eva Gold, Advanced Eden Energy Medicine therapist, is coming back to Saint John, New Brunswick to teach Level 1: Fundamentals 2020    Eden Energy Medicine in practise   
DATES:    Class 1: May 28 – 31, 2020      Class 2: August 27 – 30, 2020      Class 3: November 19 – 22, 2020
Class 4: February 18 – 21, 2021
TIMES:   Thursday: 12 p.m. – 6 p.m.    Friday: 9:00 a.m. – 6:00 p.m.    Saturday: 9:00 a.m. – 6:00 p.m.
Sunday: 9:00 a.m. – 3:00 p.m.
MORE ABOUT EVA:
Eva Gold (CNHP, EEM-AP) is an Advanced Eden Energy Medicine therapist, authorized Energy Medicine for Women instructor and Faculty Member of the Eden Energy Medicine Certification Program in Phoenix, AZ. She is also a Licensed Natural Health and Medical Qi-gong Practitioner, Reflexologist, and a Clinical Aromatherapist.  For more information about the Foundations program visit:   https://edenmethod.com/l1-2020-21-eva-gold-saint-john-nb/
To REGISTER contact your Toronto teacher Eva Gold:
evagold2806@gmail.com • www.em4all.com
2019 Fall Hooper Studios Group Gifts Show
November 16th & 17th
Saturday, 10 to 5,  Sunday, 12 to 5 with a variety of local artists and craftspeople!  Artists and craftspeople will be doing demos.
Take a lovely drive to Hampton and join us at Hooper Studios. The show brings together over 18 local artists and craftspeople; Fred Harrison,  Melanie Craig Hansford, Phil Savage, Paul Kasdan, Helen Stanley,  Cathy Love,  Liane Thibodeau, Deborah Payne, Sue and Kathy, Sophia Bella, Erin Loughery, Larry Stewart, Caroline Meyer, Edward Guitard, Gudi Pach, Judy Brittain, Aidan and Erica Stanley of Queenstown Goldsmiths.
Visitors can view and purchase beautiful textiles & fibre art, scarves, felted ornaments, hand made shoes, lovely water-colours, pottery, colourful mosaics, sculpture , a variety of  cards & prints, a selection of three jewellers works, wood sculpture, turned works & more!
Join us for the Demos!
Saturday
 Sophia Bella will be available on Saturday with Wrapping rocks with wire from 10 to 12 and demoing Teneriffe Lace making from 2 to 4  Paul Kasdan will be available most of the weekend with a special 20 minute talk on his shoe making experience at 2pm on Saturday.
Sunday
Fred Harrison will be painting from 1-3. Helen Stanley will be demonstrating assembling and decorating the oval and square casseroles, from 3-5.  Melanie Craig-Hansford will be working on her watercolors.
For further info please Call Sue 650-3333  or Kathy 506 832-5255
In 2019 the Gallery will be open by chance or appointment.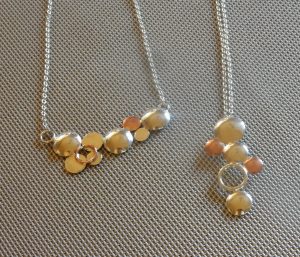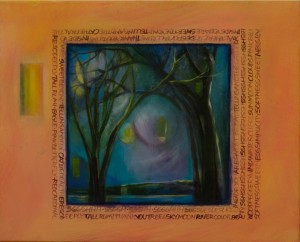 Past Happenings 2019
Gallery Opening at Fog Forest Gallery, April 4th  "The Journeys" Drawings & Paintings by Kathy & Sue Hooper, Spring 2019
Plant sale Conservation Council fundraiser, Saturday, June 15th at Hooper Studios. Perennials and more! from the beautiful gardens of Sue Hooper, Kathy Hooper, Wendy Langille, Mo Robichaud, Martine Bernard and Sima Usvyatsov. If you have questions call Liane Thibodeau at 763-3631 or write:  liane@people-reach.com.
Piggs Peak Garden Party,  Sunday, June 23, Hooper Studios, Hampton        Art, music and gardening  between 2 and 5  Come and enjoy Local Musicians….Magnus LaBillois between 2 and 3pm and "Hardly There", Amanda J Weir and Sebastien Doucet  between 3 and 5pm   People can explore their creativity, drawing, painting and making art in the studio and in the lovely gardens. There will be raffles for Funky art flower bouquets! and more! The upstairs Gallery will be open and there will be info on how you can make a difference supporting children going to school. Kids can plant seeds and go home with there own beauties, "Planting for Ubuntu….Oneness"  Sweet sunflowers and zinnias for purchase!   Yummy nibblies to eat and enjoy delicious rhubarb juice! For families, singles, couples the  suggested minimum donation of $20 would be much appreciated.  Please bring cash or cheque. Profits go to support school fees. For info and to RSVP call  committee member Sue Hooper 650-3333. Visit: /www.facebook.com/hamptonpiggspeak
Sunbury Shores Gallery Opening, Sackville. Kathy Hooper: Retrospective, July 5th, 7 to 9, runs to July 27th
Bloomin Artists, July 20th and 21st, 2019
Hooper Studios Gifts Show, November 16th & 17th, Saturday, 10 to 5,  Sunday, 12 to 5 with a wide variety of artists and craftspeople!