Updates & Events
Hooper Studios opens for the season at the end on April. The Gallery will show works of Kathy & Sue Hooper and invited artists.
In 2019 the Gallery will be open by chance or appointment. Call Kathy 506 832-5255 or Sue 650-3333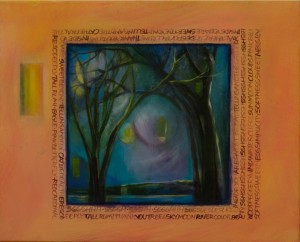 Happenings
Gallery Opening at Fog Forest Gallery, April 4th  "The Journeys" Drawings & Paintings by Kathy & Sue Hooper, Spring 2019
Plant sale Conservation Council fundraiser, Saturday, June 15th at Hooper Studios. Perennials and more! from the beautiful gardens of Sue Hooper, Kathy Hooper, Wendy Langille, Mo Robichaud, Martine Bernard and Sima Usvyatsov. If you have questions call Liane Thibodeau at 763-3631 or write:  liane@people-reach.com.
Piggs Peak Garden Party,  Sunday, June 23, Hooper Studios, Hampton        Art, music and gardening  between 2 and 5  Come and enjoy Local Musicians….Magnus LaBillois between 2 and 3pm and "Hardly There", Amanda J Weir and Sebastien Doucet  between 3 and 5pm   People can explore their creativity, drawing, painting and making art in the studio and in the lovely gardens. There will be raffles for Funky art flower bouquets! and more! The upstairs Gallery will be open and there will be info on how you can make a difference supporting children going to school. Kids can plant seeds and go home with there own beauties, "Planting for Ubuntu….Oneness"  Sweet sunflowers and zinnias for purchase!   Yummy nibblies to eat and enjoy delicious rhubarb juice! For families, singles, couples the  suggested minimum donation of $20 would be much appreciated.  Please bring cash or cheque. Profits go to support school fees. For info and to RSVP call  committee member Sue Hooper 650-3333. Visit: /www.facebook.com/hamptonpiggspeak
Sunbury Shores Gallery Opening, Sackville. Kathy Hooper: Retrospective, July 5th, 7 to 9, runs to July 27th
Bloomin Artists, July 20th and 21st, 2019