Kathy Hooper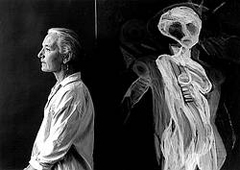 Kathy Hooper, painter, printmaker, sculptor and ceramist, was in 1994 winner of the Strathbutler Award for excellence in the visual arts and craft in New Brunswick. Born in Africa, she studied in England and in South Africa before coming to Canada in the early 1960's. She has an impressive exhibition history and an equally impressive record of acting on behalf of artists on boards and juries. Her most recent solo exhibitions include the Dog Series which grew out of a visit to Mexico and which was shown there, The Dark Series, which dealt with the racial turmoil of South Africa and before that the Marginalia for the Beaverbrook Art Gallery and A Series on Violence at the Gallery Connexion. Work of hers travelled in Canada and the United States with Five New Brunswick Artists (Strathbutler winners), through the Maritimes with Anecdotes and Enigmas the Marion McCain show of 1994 and in Waterloo, Ontario at the Canadian Clay and Glass Gallery. In 1993 she was the curator for Suzanne Hill's Carapace series. She served on the Premier's Advisory Committee on the Arts from 1986-89, which proposed the formation of an Arts Board, and as an Arts Board member from 1990-91. She also served on the Advisory Board of the Canada Council Art Bank and on various juries both national and provincial. Her works are to be found in public and private collections in Canada and beyond.
Kathy Hooper: Artist's Statement
Ever since I was very young, all I wanted to do was paint and make things. Growing up home schooled, on a farm in South Africa, I drew and painted all the time, animals, birds and plants and a weekly comic strip, delivered free to my family, mostly devoted to lusty girls and tough men. I try to say what I feel and think through my work, both sculpture and paintings and I work mostly in acrylics on canvas or paper; usually the work turns into a series as I explore an idea. Often figurative and with colour as a strong element, I am also exploring a more abstract approach to both landscape and the human figure in the work I am at present doing.