John Hooper
John Hooper's colourful human figures in wood enliven Market Square in Saint John, Parliament Hill in Ottawa, and office courtyards from coast to coast. With humour, satire, and his own mysterious imagery, John's compelling sculptures comment on issues of social justice and human triumph over adversity.
Born in England in 1926, he also spent time in his youth in China, and served as a captain in the British Army in India in 1944. He was educated at the Royal College of Art and Bournemouth College of Art, where he studied with sculptor Jacob Epstein. After teaching at the University of Natal in South Africa from 1956 to 1962, John moved to New Brunswick with his wife Kathy and three small children, where he had been offered a job to establish the art program for Saint John schools. For many years he worked as a teacher and administrator before devoting himself full-time to art in 1974.
During his time working as a full-time artist, from 1974-2002, John completed eight large commission pieces as well as many smaller, private works – which included sculptures and paintings. In 1997, The Beaverbrook Art Gallery in Fredericton, New Brunswick held a retrospective show of John's life and work which featured more than 40 pieces.  A book, The World of John Hooper, was published in conjunction with this show.
In 1991 John was the first recipient of the Strathbutler Award for Fine Craft and Visual Arts. In 2000, he won the Miller Brittain Award for Excellence in Visual Arts and was made an Officer of the Order of Canada.
John died in January of 2006.
His works are in included in numerous public and private collections throughout Canada, the USA and beyond.
John Hooper – Major Public Commissions
America's Future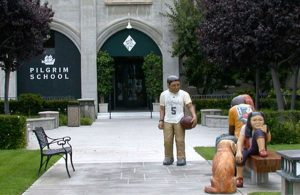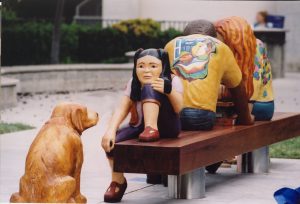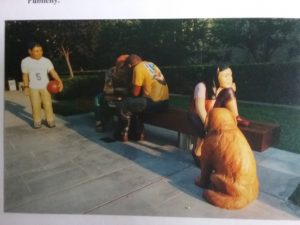 2002
"America's Future"
Polychromed and laminated mahogany
Commissioned by Larry & Nancy Brown as a gift to
The Pilgram School
Los Angeles, Cailfornia, USA
Flying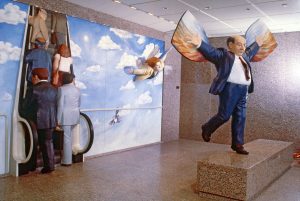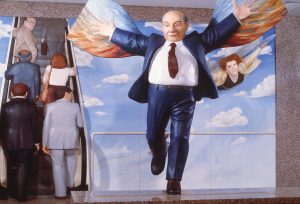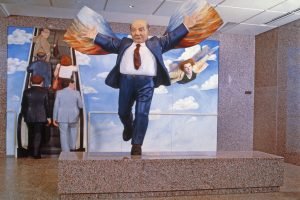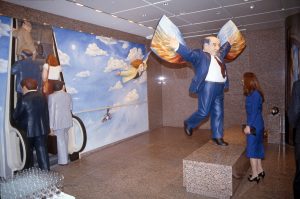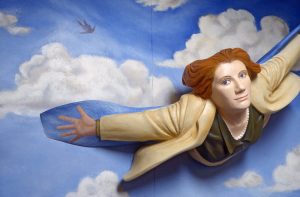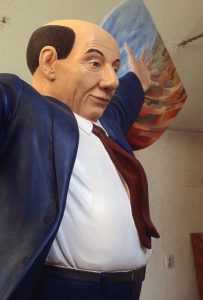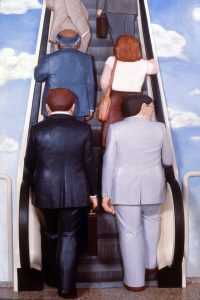 1988
"Flying"
Polychromed Pine & Acrylic on panels
304.8 x 487.7 cm
Commissioned by Prudential Assurance Company
Toronto, Ontario
Celebration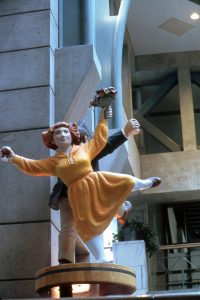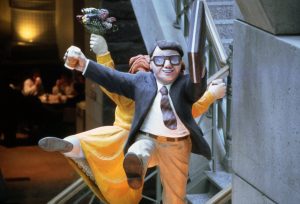 1986
"Celebration"
Polychromed Yellow Cedar
183.cm, height (not including base)
Commissioned as part of Expo 1986
Sinclair Centre
Vancouver, Canada
Timepiece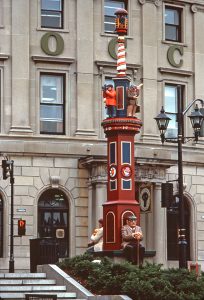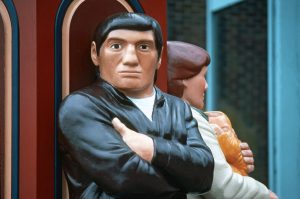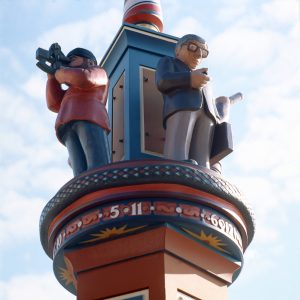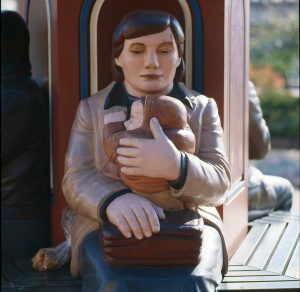 1984
"Timepiece"
Polychromed and gilded mahogany and oak
762.0 cm, height
Commissioned by Rocca Group
Market Square, Saint John, New Brunswick
Terry Fox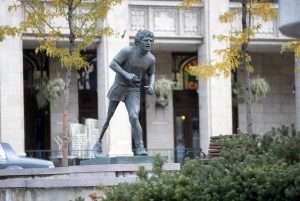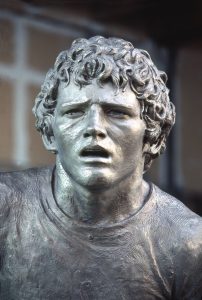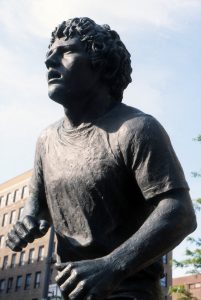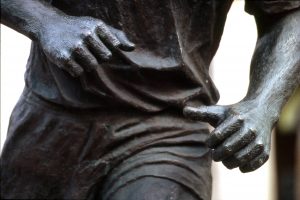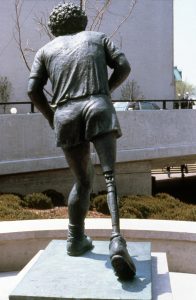 1983
"Terry Fox"
Bronze
Ottawa, Ontario
People Apart Coming Together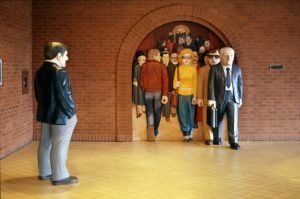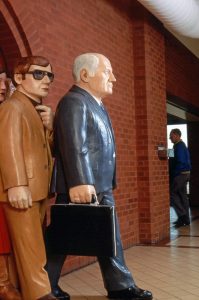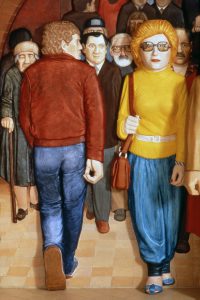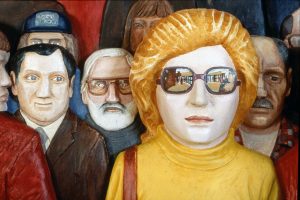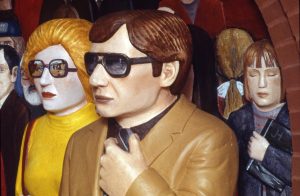 1983
"People Apart Coming Together"
Polychromed Pine and Mahogany
228.6 x 203.2 x 76.2 cm
Commissioned by Rocca Group
Market Square, Saint John, New Brunswick
Balancing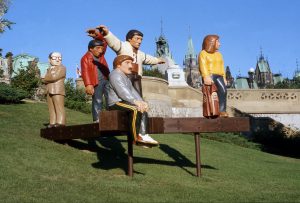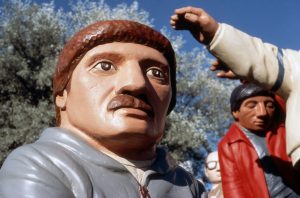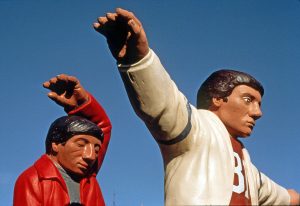 1981
"Balancing"
Polychromed and laminated Mahogany & Douglas Fir
457.2 x 457.2 x 274.3 cm
Collection of the National Capital Commission
Ottawa, Ontario
People Waiting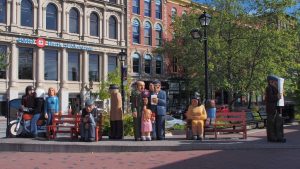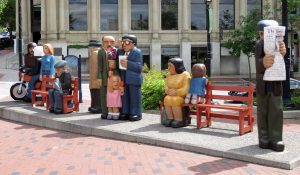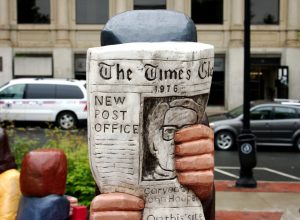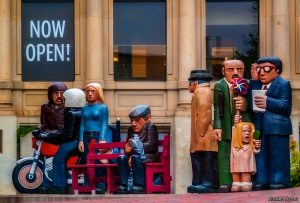 1977
"People Waiting"
Polychromed and laminated Mahogany
Commissioned by Canada Post Corporation
Saint John, NB
Donated to the City of Saint John in 1998(?)
The Centennial Building Relief Mural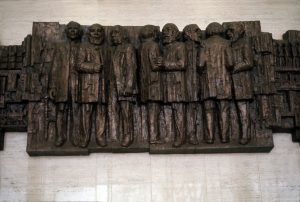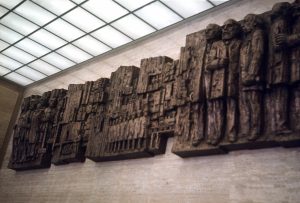 1966
"The Centennial Building Relief Mural"
Fibreglass
Collection of the Province of New Brunswick
Fredericton, New Brunswick